TESTIMONIALS
With the enthusiastic testimonials hereunder you can benefit from the experience of customers who have been faced with issues similar to yours. They prove that our approach is effective!
Find out what solutions have been chosen by those customers and how Fullmark has been able to contribute to the success of their internal communication…
OUR CLIENTS ARE OUR BEST AMBASSADORS
Schneider Electric : The participative management proposed by Fullmark is much more attractive!
"We are very satisfied with the Fullmark training given to our team leaders. The participative safety management proposed by Fullmark is much more attractive and much better perceived by the managers than imposed safety management. The tools used and the quality of the trainer got everyone to support the idea that every manager should be a true safety relay. We are now considering training the management of the site."
Carole GUILLET
HR Business Partner
France Transfo Schneider Electric
Keolis : The number of accidents has gone down by 60%!
" After peaking, the number of work-related accidents fell by 60% in a few months with Fullmark's relevant collective and individual awareness-raising approach; we will extend this approach to the whole company "
Claude VOISEUX
Rolling Stock Maintenance department head
Tramway Metro Management

Daher - Coaching-training of the line management + staff awareness-raising campaign + raising team awareness= success!
"The coaching-training organized on our various sites in France met with the expected success! The participants appreciated the facilitators, the communication and safety awareness-raising tools used by Fullmark's trainers. They could share their experiences and design action plans to strengthen the safety culture on industrial and service activities (e.g.: working in pairs for the first safety talks in order to correct and encourage each other). Besides, with Fullmark's specific approach, actions already taken on the field could be highlighted. Finally, we are confident that coaching-training is an excellent basis for a successful "Safety, I am committed to it" Performance campaign.
Raphaël DUFEU
Nuclear & Energy Poles / Capital Goods
www.daher.com

GSK - Very interactive and participatory training!
"It gives an opportunity for the participants to express themselves on a wide range of EHS issues without any barriers. Whenever possible, the ideal would be organizing a full day to be able to delve deeper into each subject."
Séverine Stassin
Project coordinator - Internal Communication
Belgium EHS
GSK

L'Oréal - With and through our collaboration with Fullmark, we have just reached 1000 days without lost-time accidents!
With the communication tools developed by Fullmark, employees can be playfully educated about a very serious subject: safety. Fullmark can also adapt its support material (posters, Kakemonos, tarpaulins, leaflets ...) to the company's specifics for the communication to be fully integrated into the site's communication strategy. Today, Fullmark appears as a privileged partner in the EHS policy conducted by CLIR's Management. With and through our collaboration with Fullmark, we have just reached 1000 days without lost-time accidents.
L'OREAL - Centrale de Roye
Tarik CHAOUKI
Human Resources Director

ThyssenKrupp - A 75% reduction in accidents!
During our safety campaign in 2013 we could benefit from Fullmark's competence. Fullmark has a vision and a clear message on various topics, they are both visually attractive and informative. Because the message was very clear, we had good results with the action sheets and posters and we can see good progress and good results at all levels in the company.
Behaviors and awareness have substantially changed positively, resulting in a 75% reduction in accidents.
Fullmark, a true safety partner!
Marcel van Duffelen
Health and Safety specialist
ThyssenKrupp Accessibility BV.

MBDA - Changed behaviors of the team leaders following Fullmark's coaching sessions
I would like to tell you once again how satisfied we are with the "Management Safety Training ' program rolled out in early 2013.
Actually, these training sessions propelled the safety-reflex campaign implementation process and got the Managers to become true actors in this deployment and facilitation process.
The Managers have insisted that their team leaders should also be able to benefit from this training.
The point, in my view, is that the behavior of most team leaders has changed: through rituals, they assert themselves as safety leaders of their sectors.
In addition, as they have annual performance interviews with the operators, they have been able to improve what they say in those interviews in order to anchor our vision of safety.
Sincerely,
Pierre-Yves HAMONIC
MBDA Systems

Sanofi - "I sincerely enjoyed working with you"
We ended our "HSE in the lead" communication with a quiz late June (...), our cooperation has been fruitful. Thank you very much for being so involved, adapting and understanding more and more in every campaign. So, I sincerely enjoyed working with you. Thank you again for your patience, tenacity and kindness in all circumstances.
Frank BONNIOT
Sanofi-Aventis
Department Head Assistant
Health, Safety and Environment
Vertolaye
Arcelor Mittal - From 18 to 0 accidents!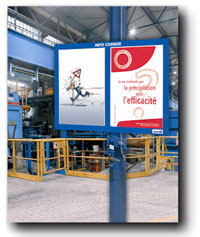 «FULLMARK brought us a relevant display support material and effective material for 15-minute safety meetings.
Our staff is very receptive to the elements of the 15-minute safety meeting cards. Before the Fullmark campaign, we had 18 lost-time accidents. This year we have had 0 accident, with an excellent feedback on the 15-minute safety meetings!»
Richard EECKHOUT - Quality Manager
ArcelorMittal
UFAciers