THE SMART-SAFETY PROGRAM© FOR A STRONG AND FAIR SAFETY CULTURE!
Relying on tools based on people, attitudes and behaviors, we create for you a personalized program that will enable you to move up the ladder in terms of "safety culture".
Objectives of the program:
Giving meaning to safety
Acting on the human factor, on behaviors
Capitalizing on what has been put in place already
Deploying innovative tools
Building up a resilient OHS system
Minimizing accidents
Improving operational efficiency

Giving meaning
Acting on the human factor
Operational efficiency
SMART-Safety PLUS
If you want to deploy an integrated culture 
We can include valuable tools for improving QWL,
quality  and the environment.
SMART-Safety PLUS : a catalyst for your company's efficiency and performance!
WHY A "FAIR CULTURE"?
A " fair culture " can be defined as implementing a safety culture based on trust and communication and relying on the right balance between recognition and appropriate sanctions.
What is at stake:
Clear rules that are shared by all.
Empowering employees.
Reporting dangerous situations.
Rewarding good behaviors.
Fair and balanced sanctions when rules are broken.
A fair culture creates a climate of trust that encourages employees to provide critical safety-related information while understanding the boundaries that exist between acceptable and unacceptable behavior.
THE STEPS OF THE PROCESS

Diagnosis
Assessment of the situation
Common
vision
Building the
program

Deploying the
program
Individual
& Collective Anchoring
Diagnosis/ Assessment of the situation
Unlike other approaches, the strength of our approach is that we do not sweep away all that you have already built in the past. On the contrary, we capitalize on what has already been put in place.
Our HSE experts give you a complete and transparent view of how safety culture is perceived in your company.
The diagnosis serves to set a starting point. It also helps to realize that changing is needed.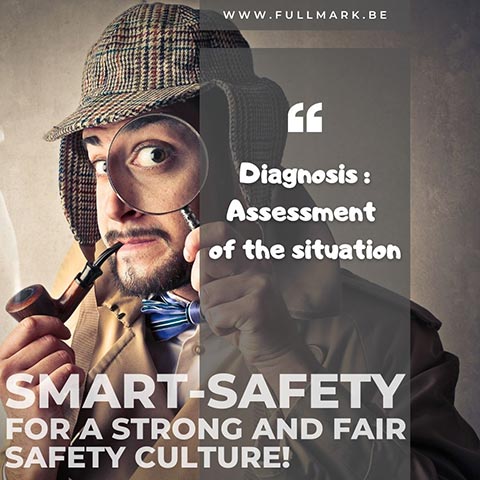 TRAINING & COACHING
We offer personalized coaching to help you improve your safety culture. We have adapted training programs for the Management as well as for the Managers and innovative workshops for all white-and blue- collar workers.
Dare an innovative and impactful approach!
Awareness-raising tools
Each year we offer you a real "toolbox" so that you can run an impactful awareness- raising campaign successfully!
We will provide your managers with the tools they need (posters, 15-minute safety briefings, videos, search for errors, cards, etc.) so that they can be in a comfort zone to manage safety actions in their teams on their own.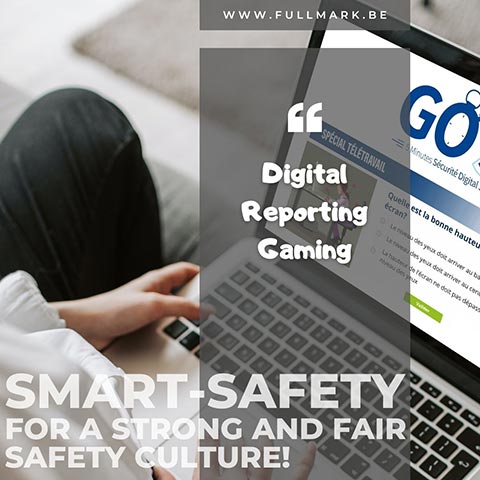 DIGITAL/ MONITORING
In addition to the new "Go5" solution, you can have access to all the tools of your campaign (including the precious 15-minute safety briefings) via a web platform!
Your safety campaign then becomes 100% digital. The digital solutions include a Reporting tool that can measure the rate of participation in the program deployed and organize a safety challenge.
The keys to success
All involved
We work with everyone from the executive committee to the operators on the field, including managers and team leaders. Everyone has to be involved in safety.
Expert trainers and facilitators
By choosing Fullmark, you are sure to work with smiling and passionate trainers...who share their expertise with insight and fun.
A personalized coaching
Our support is provided over several years and includes assessments, consulting, workshops, training and coaching.
Contact me about it